Sunday 19th November 2006: London to Delhi
First Impressions
---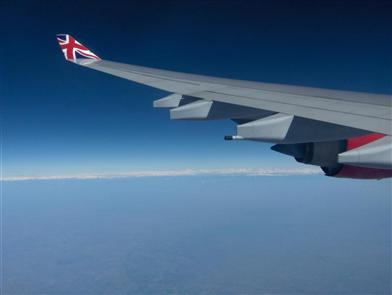 With the Himalayan snow covered peaks far away on the horizon, India looked like a typical patchwork quilt of farm land as we began our descent into Delhi. On the ground, the airport was at the edge of the urban sprawl, and after 24 hours without sleep, the moderate heat, instant hassle from porters clamouring for tips, other undesirables and general chaos was far from welcome.
Our plane had been delayed by two hours due to not one, but two passengers being taken ill. The first decided they couldn't fly just after we were ready to depart the stand. There followed a 30 minute delay while their luggage was removed from the hold (a security measure apparently – not just for their convenience). The second passenger was kind enough to wait until we'd taxied to the runway before deciding to piss another hour or so up the wall with returning to the stand, and locating their luggage. Those who know me can, I'm sure, well imagine my delight.
Anyhow this, combined with my inability to sleep on a night flight, meant I was knackered. Transfer to our hotel was painless, and the room was good, but sadly we were already late for our afternoon tour of Old Delhi, so we could afford no rest. Our guide was a local lady who really did know her stuff, and our driver was the same chap who collected us from the airport, and indeed was to remain with us until Thursday.
Looking back on the entire adventure, the tour of Old Delhi really did provide the most horrendous culture shock possible. I'd read that a trip to India is an assault on the senses; our knackered excursion into the filthy hive of activity that is Old Delhi was an all out nuclear strike to the conscience.
It is at this point that I must first mention the roads, vehicles, and general road-craft. Words cannot convey the chaos that just somehow, works. Old Delhi immediately presented us with the busiest, most bustling tarmac we were to see.
Indians think nothing of loading a bicycle with 50 litres of cooking oil, and then wobbling down the street with their load precariously balanced and as wide as a car. Cows meander as they please, water buffalo and goats are herded, traders push their carts full of produce, hundreds of overloaded rickshaws battle their way forward while a swarm of motorbikes circumvent the knackered old buses that are surrounded by cars. All this happens constantly and simultaneously, accompanied by a genuinely permanent chorus of horns and whistles.
Wide eyed, I began to pick out specifics. No vehicle was unmarked; missing panels and lamps were common. A moped rider had his middle child sat in front of him. I knew it was his middle child as his wife was sat side-saddle behind him carrying a baby, and the eldest child was at the back. All this on a 50cc moped. The driver, as obliged by the law in the cities of Delhi, wore a helmet. The remainder of his family, unobliged, did not.
Hulking great buses without underrun bars and with bumpers at chest height, surged and lurched along the road with occupants hanging from the windows. Many of these buses had sufficient crash damage as to have large sharp creases on their corners, and front panels missing to reveal the boiling hot radiator as the most forward part of the vehicle – at head height.
Delhi was founded in 1648, and as far as I can see, its roads have received little enhancement the duration since. I'm not a good passenger at the best of times, but tired and overwhelmed, I will admit I was far from comfortable, especially as fundamental road rules such as 'keep left' and 'give way to the right at a roundabout' seemed to be optional.
Jama Masjid Mosque
---
Beyond all this were countless market stalls where trade ranging from basic foods to electrical items changed hands in frankly shanti like conditions. Then we stopped to visit the large and imposing Jama Masjid Mosque. We got out of the frying pan, and into the fire.
Like flies to shit, the traders, beggars and cripples made a bee-line for the obvious group of three foreigners that we were. In England, in London say, such begging or unsolicited sales don't bother me at all. However, in these new conditions, without the energy or ability to deploy the 'piss off' that works such wonders in the UK, this was deeply unpleasant.
Then into the Mosque. 'Shoes off'. Superstitous toss at the best of times, but there I am, leaving my bright blue Nikes in a sea of brown knackered slip ons to be watched over by a guy who looked as trustworthy as Michael Jackson in Mothercare.
The Mosque was impressive. They do tend to be beautiful constructions, and this was no exception: vast, detailed and high up, giving a commanding view of Delhi and various landmarks.
However, it soon became apparent that to most other visitors, we provided a greater spectacle then the building itself. Firstly, the screens on our digital cameras proved fascinating, with small crowds of locals peering over the shoulder of any photographers. Secondly, perhaps more concerning, Diane's age and colouring was apparently compulsive viewing, especially for local men, and unlike the cameras this was an attraction that most other tourists present couldn't offer.
If the tale so far sounds unappealing: it was. But this is the shock that no amount of reading can prepare for, combined with the tiredness that can turn molehills into mountains. The turning point came minutes later, when we emerged from the Mosque and my shoes were waiting for me. Sure, the man wanted a tip for their care, but our (dedicated) guide advised that 10 rupees would see him happy for the care of all four pairs, which at about 12p, sounded good value to me. Worth a note here, 1 rupee is about 1.2 pence.
On the way back to the cars the pesterers appeared again, but somehow we were more energised, and Diane managed to purchase some jewellery for a couple of hundred rupees, and all others were brushed aside.
Old Delhi's Red Fort
---
From there, we moved to the Red Fort where the queue for entry consisted of natives and foreigners, was about 500m long (!), and was policed by a policeman with a very big stick. Again, appealing, but here the nature of the holiday package became apparent as our guide was able to march us straight in. Matters were improving!
The fort was big, old and impressive. On another day we could have spent a good deal longer there, but now some 30 hours without rest, we agreed to retire to our hotel. A quick curry in the hotel restaurant with our malaria pills, and I was in bed by 7 and asleep instantly. I awoke at about 3am, and this was my first real chance to inspect what really was an excellent hotel room. All facilities were there including cool and quiet air conditioning, along with a spectacular view over some of the city.